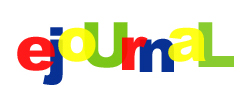 Home | eJournal | Archive
---
August 28th, 2003
The Future's So Bright, I Gotta Wear Shades

Today is the first day of the fall semester at UMBC. I go into it fresh off a nice vacation. This is my fourth semester at the university. It's really has gone by fast. Hell, my summer went by fast and I didn't really work alot. I can't really complain though. I got four trips in this summer, 1 to New Jersey and 3 to the beach. I avoided wasting time at work and spent time doing a lot of the little things I've wanted to do. My life really is a lot better now then it was a few years ago.
I still have work on my mind. Whether I go back to my job or get a new one, I'll feel awkward and maybe uncomfortable. And I've got a tough, long semester ahead filled with busy work and hassles.

I saw plenty of familiar faces. It felt good to see friends and remember that I'm a part of something. At least now I'm a veteran at this stuff.
My first class is Graphic Design III Typography. Then it's History of Photography. Then Spanish and a short break. And finally Graphic Design II Computers for Designers. Spanish was the class that threw me off. I feel so lost and unprepared in that class. I've been putting it off all through college and now it's time to face it. It will be a challenge, no doubt. Rich said "You wanted to finish school so badly, you should be careful what you wish for...you just might get it."

Yeah , yeah. I made the choice to do all this and I'm sticking with it. Even if I have to make sacrifices in personal time, jobs, etc. The way I see it I had a choice awhile ago. Take the blue pringle or the red pringle.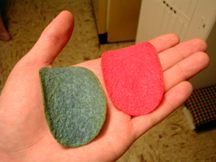 Take the blue pringle and the story ends. You wake up in your bed and believe whatever you want to believe. Take the red pringle and stay in wonderland and see how far the rabit hole goes.
Why oh why didn't I take the blue pringle. (by the way, those were not altered by me, they actually sell colored pringles now)


Once again I leave you with this (but this time in another language.):
"Please choose a piece of artwork from the slide carousel and write a 2-4 page paper, be sure to place the piece in its social and theological contexts..."


"Como se dice 'the art is nominal' en espanol?
El arte es simbolico"
-Zosie


You are entitled to your opinion (no matter how wrong it is)
---
August 22th to the 25th, 2003
Nobody on the Road, Nobody on the Beach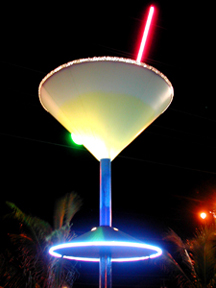 My vacation is underway and I'm content. I spent a lot of time busting my ass, running around the last two days preparing for my four day trip with Craig (and possibly Jay).

Friday: We left late in the morning and it was clear sailing, no traffic or hassles. We got there about 3pm and hit the beach. One of my themes for this year was simply - 'Reach the Beach'. It was inspired by the cover of an album by the Fixx titled Reach the Beach. The cover has an illustration of a man with his arm extended, reaching for the beach. Very literal, but effective since I would always see it in a thrift store and I started to associate it with my passion for getting to Ocean City.
So it was still early in the afternoon and we got our time on the beach and in the cold water. We went to the superfresh and lingered around the room talking on our phones. We headed out for dinner running a little behind. Everything from Craig's broken sandle to the crappy buses held us back. Finally it was an enjoyable dinner at 'Out of the Blue' on the boardwalk. (I think the Russian waitress was sweet on me, but I wasn't 100% sure, I don't know foreigners.)

Saturday: More fun and sun and the icy sea water of the Mid-Atlantic. We were taking on water alright, it was freezing our balls off. After that we hit Jolly Roger for some pirate water slides. It was really fun and worth the cash but by the evening we were really sunburnt. So we cooked up some grub and watched the Redskins beat up on the Ravens. Later on some giggles as Rich made his way to the boardwalk all set to new wave 80's hits.

Sunday: I got a board shirt today and hit the waves, the waves and water temp. were better. We had some Bahama Mamas Crab Shack and I checked out my an old hangout - the Holiday Inn. It was a little run down, looks like they put their money into the Boardwalk Hotel. So went swimming at our Hotel's pool (the largest in Ocean City) one last time and we checked out the sunset again. There was plenty of time for boardwalk, miniature golf and just walking around. It seems Craig and I split a series of air hockey and miniature golf winning one round each. We'll have to settle it with a best of three in something.

Monday: We wrapped it up with some last minute shopping and some sights and sounds. Everyday was completely sunny and pleasant. On the way back we stopped at this nice market, Craig bought two packs of gummy bears, I bought six ears of corn, which was better? I don't know. I do know I was impressed that Craig was willing to put up with my obnoxious personallity and behavior (and erratic driving) for a second beach trip in one summer. I know I listened to a lot of 80's hits and it doesn't get any better than a saxophone solo. I also doesn't get any better than a grown man in an alien costume outside an ice cream shop.
-Zosie

You are entitled to your opinion (no matter how wrong it is)
---
August 21st, 2003
Boys of Summer

Nobody on the road, Nobody on the beach
I feel it in the air, The summer's out of reach
Empty lake, empty streets, The sun goes down alone
I'm drivin' by your house, Though I know you're not at home


But I can see you, Your brown skin shinin' in the sun
You got your hair combed back and your sunglasses on, baby
And I can tell you my love for you will still be strong
After the boys of summer have gone


I never will forget those nights, I wonder if it was a dream
Remember how you made me crazy, Remember how I made you scream
Now I don't understand what happened to our love
But babe, I'm gonna get you back, I'm gonna show you what I'm made of


I can see you, Your brown skin shinin' in the sun
I see you walkin' real slow and you're smilin' at everyone
I can tell you my love for you will still be strong
After the boys of summer have gone


Out on the road today, I saw a DEADHEAD sticker on a Cadillac
A little voice Inside my head said, "Don't look back. You can never look back."
I thought I knew what love was, What did I know
Those days are gone forever, I should just let them go but


I can see you, Your brown skin shinin' in the sun
You got that top pulled down and that radio on, baby
And I can tell you my love for you will still be strong
After the boys of summer have gone


I can see you, Your brown skin shinin' in the sun
You got that hair slicked back and those Wayfarers on, baby
I can tell you my love for you will still be strong
After the boys of summer have gone
Don Henley - Boys of Summer

-Zosie


You are entitled to your opinion (no matter how wrong it is)
---
August 19th, 2003
Take this job and shove it
Today is my father's birthday and possibly my last shift at Blockbuster. Last year I came home from the beach with my dad on his birthday and looking forward to seeing Kat for her birthday and looking forward to getting ready for school.


My vacation was supposed to start on Mon. 8/18, but I decided to pick up some hours not knowing when I might work again. I also needed some more time to tie up any loose ends. I always pictured my last shift or last week being built up and emotional. Seeing all my co-workers and closer, etc. I ended up getting off at 2:30pm before any of the night shift appeared. I also heard the regional director was visiting stores and on the way. So I prompty grabbed my stuff, jumped in my car, and hit the road. My last shift might have ended with me running away, which sort of fits with my leaving over the unsafe conditions.

At least I had time tonight for my uncle to look at my car and for some beach preparation. Somehow the whole work situation does not seem settled. I've been real indecisive about it all summer and it's sort of a lose-lose situation. But I'm sure it will all work itself out.
-Zosie


You are entitled to your opinion (no matter how wrong it is)
---
August 15th, 2003
WFW Summersplash 2003
This friday marks the beginning of WFW Summersplash, a three week long pay-per-friend event! An event starting in Georgetown, moving to Ocean City, MD and then finally culminating in Savannah, GA. Alan just arrived in town and it was exciting to finally catch up with him. I missed Alan and hanging out with him, Craig, Kevin, and having the former UMBC group together for a party was long overdue. The party was sort of small but enjoyable. Lots of heavy drinking and goofing around. Saturday was some kind of counter clockwise tour of Maryland as everyone was taken home in reverse order. I got home just in time for work amid those lovely mid-day hail/thunderstorms.
-Zosie


You are entitled to your opinion (no matter how wrong it is)
---
August 10th, 2003
Body Switching Tragedy
I've seen some posters and trailers for the movie 'Freaky Friday'. Jamie Lee Curtis and her daughter switch bodies. The I remembered that I saw Hot Chick earlier this year. Rob Sneider switches bodies with a teenage girl. So it would appear the body-switching comedies, which were very prevalent in the 80's, are back.
I want to see them do a body switching tragedy. One of the characters is murdered and the other one is stuck in that body. Then that character goes into a tailspin in a rundown, seedy city as he/she tries to solve the murder while being pursued by authorities.
Or how about a body switching porno? What do you think?
-Zosie


You are entitled to your opinion (no matter how wrong it is)
---
August 2nd, 2003
Poise in the Hood
I went to an interview with Circuit City yesterday and it went well. Today I went to my cousins birthday party. Later on I went to work and found out they were robbed last night near closing. Plus I got wind that they want to ship me out to Oxon Hill or Bladensburg. That's alright, they're gonna try and break the kid but I ain't gonna break that easy. The kid's gonna prove 'em all wrong, believe that playa. I'm glad I didn't turn down the job. I was leaning towards staying because of the pay rate and benefits. I can see now that I am not appreciated so I think it's best that I move on. I'm gonna be in control of my own destiny.
-Zosie


You are entitled to your opinion (no matter how wrong it is)
---
August 1st, 2003
Don't Mind If I Fall Apart, There's More Room In A Broken Heart.

Now it's August and Everything After. I've tried to enjoy my summer. I tried to avoid the bad season by being active. I had my billiards class in June, and I spent some time swimming, playing basketball and doing general exercises. I also waged a war against the clutter in and around my house. I focused on my room, my basement, and my underhaus. Of course my issues with work kicked off the annual bad season and it's been difficult to stay focused or stable. Part of the problem is a lack of pressure. When I have to juggle school, work and play, I seem to respond well. I usually work well under pressure. When I have multiple tasks to complete and deadlines, I'm like a fucking machine.

But my beach trips, time at home and time spent with family or friends has helped me make this a somewhat enjoyable summer. I've certainly had much worse summers in the past. Although I've tried to look to last summer, summer of 2002. It started off rocky, but I turned it all around. Last summer was a summer of self-discovery. A summer when love was possible, a summer when anything was possible in a year when anything, and everything, was possible. For the first time I feel I can speak publicly about that.
I was able to open up again and the emotional Zosie was back. I kept that spirit rolling into the fall semester. And yet I made sacrifices to stay the course. I spent alot of time alone last fall and coped with the changes. Afterall, 2002 was the year of change.

I started this year off fired up. I was on a mission, I wanted to continue my winning streak. When I started to change my life back in the fall of 2001, one of my goals was to be a winner. I got tired of failing and coming up short. I wanted to prove many people wrong, the people who didn't think I had any talent, skill or intelligence. Showing up the people who counted me out was motivation. I also work best when I feel like I'm an underdog.
Unfortunately one of the practices I adopted this year was burying my emotions. I felt that emotions and feelings were counter-productive. Most people who are close to me know that I am emotional. That I care, express myself and can cry at the drop of a hat. I felt that displaying any emotion was a sign of weakness. But you can't be something you're not. Keeping my feelings bottled up inside and not expressing myself will ultimately backfire. I also rejected the past, memories from before the common era (BCE - 1999 and before). But wasn't it those primitave years and my emotions that got me to where I am and who I am. The memorable things that I have accomplished would not have been possible had I not poured some emotion or heart into them.

I go into the latter part of the summer knowing I can still be a winner. When faced with adversity, most individuals will take their ball and go home. I'll take the ball and run with it. These are the years when the world is falling apart, hopefully I'll be able to pull myself together.
-Zosie

You are entitled to your opinion (no matter how wrong it is)
---

Al Stewart - Year Of The Cat


You are entitled to your opinion (no matter how wrong it is)
---
Home | eJournal | Archive