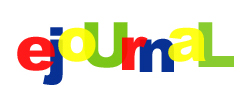 Home | eJournal | Archive
---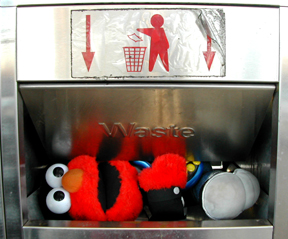 ---
December 24-26th, 2004
They're singing deck halls, but it's not like Christmas at all, baby, please come home

Christmas Eve There was little time to reflect on graduation when Christmas eve was right in my face the next day. I could feel my blood pressure woes starting to fade as my health was starting to recover. I went to my Grandparents house to see my cousins Jayne, Josef and Stephan. They were only in town for the 24th, so we watched some Packers vs Vikings and enjoyed a meal together. It meant alot to me to be able to relax and talk to them for a change. I spent the rest of the night wrapping gifts by the light of my x-mas tree and watching an all night televised presentation of A Christmas Story (the best Christmas movie ever). For once I went to bed at a good time and did not stay up all night doing last minute stuff.
Christmas Day Following tradition, Dad came over and the four of us (Tinky included) exchanged gifts and had a great Christmas morning. Then as usual we rushed to his house where food and family were already in progress. I wish my cousins and Jayne's boyfriend Jeff could have been there, but it was still a wonderful and blessed holiday.
Boxing day As usual, I spent the day taking care of post x-mas tasks whatever those are and watched the Redskins lose to the Cowboys again. I hung out with Craig and Alan and the Defibaugh residence while we waited for Aaron and Amy to get back from Christmas shopping which has also become a tradition. Then I hosted or roasted our X-mas/Boxing day annual at my home with another feast of kings, some great gifts and laughs. We watched some Strangers with Candy and Ali G. I enjoyed the rest of the night realizing that this long year and build up to the holidays was winding down and was looking forward to the calm, quiet life of post-graduation ahead of me at home.
-Zosie

You are entitled to your opinion (no matter how wrong it is)
---
December 23rd, 2004
Zosie - A Gentleman and A Scholar presents: "Living the Dream - Zosie's Graduation 2004"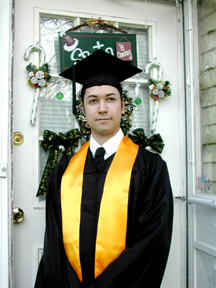 Come with me, and you'll be, in a world of pure imagination. Today was grand, but it was only a college graduation.
I kicked off my championship style graduation day by following the wonka theme and passing out a few of the promised wonka bars with magic gold UMBC tickets. But wait, I'm getting ahead of myself. Lets start with wed the 22nd. I was given just one day off between finals and graduation so the timing was very tight. I got some well deserved rest after my final class on tuesday. I enjoyed being home and spending time with my mom and Tinky near my fresh cut x-mas tree. Mom has helped decorate the house and it is good she did because I probably never would have gotten to it. I got up Wednesday morning to get a check up at the doctors for my blood pressure and stress. Then I went for a jog, threw the football around for a while and felt pretty pumped up. I went and picked up an extra battery for my camcorder and made sure I had every thing I needed. Early in the evening I went with my parents and Tinky to the American Legion to decorate and set up for the party. Marty stopped by on his way to Murphy's Bar. I picked up some food with my parents over by my store and went home to get busy burning the music CD's for the party and writing my graduation speech. I talked to people, got everything in order and made it to bed around 2am.

"Zosie - No one else ever made it look so easy to be so great."
I rose from the dead around 6am and ate a nice breakfast. My mom headed off to my Dad's place while I waited for the tardy Aaron and Amy to arrive. We headed over to Temple Hills to pick up Marty and the four of us drove in the pouring rain to UMBC. I was surprised to see that the traffic on I-95 flowed smoothly for morning rush hour on a rainy day. We took some pictures in the rain and I let everyone know where to go as I waited for my Aunt Carla, cousin Jayne, Craig and Alan. The four tickets went to my parents, Aaron and Marty. Aaron graciously handled my 8mm camcorder and Marty took on the tasks of the photography and the DJ'ing at the party later on. And my 9:15 am deadline for lining up closed in, my Aunt miraculously scored 4 more golded tickets thus securing seats for her, Jayne and, as I refered to it, two final wildcard spots. I ran and quickly found Amy in the overflow seating area and talked to Craig on the phone. Craig beat Alan to the campus thus securing the final wildcard spot and eliminating Alan mathematically from playoff contention. (Actually, Alan just went over to the extra seating in the Lecture Hall III, but my recount of the story is more dramatic) All 8 of my peeps got to sit together and were in a perfect, close position to see me and the other Art majors. During the commencement and afterwards I was emotional and felt truly blessed while reflecting on the magnitude of my accomplishments over the last three years. I felt great joy to be a part of this ceremony, an opportunity I have waited so long for and worked so hard for.

"It's over, the people in the audience look pissed."
After a long but joyous graduation ceremony, we were pushed out of the building into the pouring rain again and slowly regrouped to figure out what was next. We joked about wrestler names in the commencement booklet like Benoit and referred to the school's president as Freeman Hrabowski, dude, the other Hrabowski. I also thought it weird that they were "hooding" the master's degree students. Everyone then was goin' south as we split up and changed out of our wet clothes.

"Zosimo Monzon the Natural One, Stylin' & Profilin', the limousine ridin', leer jet flyin', kiss stealin', wheelin' & dealin', son of a gun, Wooooooo!"
I layed down at home for a 15 minute nap and went to the Legion around 3:30. My dad knew the bar mananger Dick and he was cool with us staying as late as we wanted. We had a feast of kings that night with hooters wings, shrimp, sandwiches and plenty to drink. As Marty said, 'Respect the beer'. I thanked everyone for their love and support in my Gentleman and a Scholar speech (which is available along with the rest of graduation and party on video and dvd for a low price of 19.95 plus S/H). I also had to thank myself, for if it weren't for me, I wouldn't be here to graduate. I also hosted an autograph session where I signed photos of myself in sports attire (reinforcing the sports theme) and best of all - photos of me signing photos of me, no shit. Overall I drank a lot of beer and the day was exhausting and hazy, but I will never forget the memories. It was my swan song. It was the culmination of a great championship run. My class ring from high school represented a championship for me. The straight A's, success with TV production and art, the awards and accolades, the friendships and loves were factors in making my last two years in high school a super bowl like victory. And this time I relived that winning spirit with all the success I had in college. My UMBC ring is my second championship ring. It represents the amazing creativity and success I displayed in my classes and projects, the outstanding grades, the academic honors and making the Dean's list 3 out of 4 semesters, and graduating top of the school Magna Cum Laude with a B.A. in Visual Arts. I am proud of what I accomplished and can say with confindence that I lived one of my dreams and had fun doing it. Thanks to all my friends and family for going along with me for the ride. It was solid gold baby!
-Zosie

It's over, the people in the audience look pissed...
---
December 21st, 2004
"We Live Life, Like it's the Last Day of School" -Wylde Bunch

Looks like school is out forever! Today was my last day of school, most likely forever. I finished my finals by the middle of last week. That was one nice thing about most of my semester, having some studio art courses meant that the projects had to be printed or finished up the week before so there is no studying or cramming the sunday before finals. I turned in my six foot Exhibition panel on tuesday and my Monograph book on wednesday. I had my panel back, my book printed and bound by Thursday afternoon. I turned in my Corporate Manual project thurs too but didn't need to pick it up until mon. I was sharp, meticulous and planned the whole thing just right. I calmly finished my work, did it right, and it was A+, portfolio work (I'm talkin' real restaurant quality here people). I coordinated printing, picking up materials, commuting from all the way in southern MD, and managing my time for school, work, the holidays and graduation like a true champion.

Monday was the final for GD 6 and most of the work looked great. Everyone seemed to like my book and panel. We had cake and talked. We even had a pool going for our resident slacker-classmate Chris to see how late he would be to the final or if he would even make it at all. It's sad when the professor finds out about the pool and is not only cool with it, but finds it amusing. (and for the record he did not show up to either class) My GD 7 final was today and my corporate identity and manual went over well. My blood pressure and stress went up over the last month or so. Between the stress and lack of sleep, I was probably to exhausted to get emotional this time around. I did feel those old feelings at the end of high school where you are happy to leave, be done with it all and move on to the next level in your life yet sad at the same time as you have been used to the same routine and lack of change and you don't want it to end. It was a sweet ending, I came into the school in the cold of winter in 2002 and I leave it the sae way. But this time I left a snow covered campus with my head up, not uncertain or nervous like I was when I started. I drove home more enriched and empowered and more of a man now than I was before. I'll miss the teachers and classmates and the convenience of being in school. I say to all of my UMBC peers: Goodbye Strangers, it's been nice, hope you find your paradise.

It was an early morning yesterday, I was up before the dawn
And I really have enjoyed my stay, But I must be moving on
Like a king without a castle, Like a queen without a throne
I'm an early morning lover, And I must be moving on


Now I believe in what you say, Is the undisputed truth
But I have to have things my own way, To keep me in my youth
Like a ship without an anchor, Like a slave without a chain
Just the thought of those sweet ladies, Sends a shiver through my veins


And I will go on shining, Shining like brand new
I'll never look behind me, My troubles will be few


Goodbye stranger it's been nice, Hope you find your paradise
Tried to see your point of view,Hope your dreams will all come true
Goodbye Mary, goodbye Jane, Will we ever meet again
Feel no sorrow, feel no shame, Come tomorrow, feel no pain
Now sweet devotion is not for me, Just give me motion to set me free
In the land and the ocean far away, It's the life I've chosen, every day
So, goodbye Mary, goodbye Jane, Will we ever meet again


Now some they do and some they don't, And some you just can't tell
And some they will and some they won't, For some it's just as well
You can laugh at my behavior, That'll never bother me
Say the Devil is my savior, But I don't pay no heed
And I will go on shining, Shining like brand new
I'll never look behind me, My troubles will be few


So, now I'm leavin', got to go, Hit the road, I'll say it once again
Oh, yes, I'm leaving, I've got to go, I'm sorry I have to tell you


Goodbye Mary, goodbye Jane
Will we ever meet again
Supertramp - Goodbye Stranger

-Zosie


You are entitled to your opinion (no matter how wrong it is)
---
December 20th, 2004
Only The Young

Another night in any town
You can hear the thunder of their cry
Ahead of their time
They wonder why


In the shadows of a golden age
A generation waits for dawn
Brave carry on
Bold and the strong


Only the young can say
They're free to fly away
Sharing the same desires
Burnin' like wildfire


They're seein' through the promises
And all the lies they dare to tell
Is it heaven or hell?
They know very well


Only the young can say
Journey - Only The Young

-Zosie


You are entitled to your opinion (no matter how wrong it is)
---
December 19th, 2004
Someone Saved My Life Tonight

Yesterday was the last shift I had to work before going on my much deserved vacation for my Graduation and the holidays. Last night was also my last saturday night working with my co-worker and friend Andrew. We worked a lot of shifts together in 2004, especially weekends. He is moving to Ohio next week. Also yesterday was Tanesha's last shift as she is transfering over to Marlow Heights. I have worked with her for about 4 years and I will miss having her around because 1.) she is a good worker and 2.) she is hot and easy on the eyes.

Around midnight my old friend Detective Coletrane pulled up to the store as a customer but noticed some suspicious guys in a car looking at the store who immediately fled. We had the feeling they were probably going to rob the place so good looking out. I had had a strange feeling since this was sort of a day of 'goodbyes or finales' that I might get 'domed' or shot in the head for the uninformed. Part of it was sixth sense, part of it was typical life irony, of course I would get shot right before Graduation. But it seems the Lord sent me a guardian angel that night, and in an interesting form I might add.

On a lighter note, I went with my Dad to UMBC today. This was the first time that any member of my family has seen the campus, but I guess better late than never. It was a cold, cloudy day as we walked the campus. It was nice to relax and reflect over the past few years. On the way back we hooked up an awesome GQ suit so I will be stylin and profilin at Graduation. It started to snow heavy and we bought a x-mas tree from Aaron's dad and went home to have a nice family meal.
-Zosie

You are entitled to your opinion (no matter how wrong it is)
---
December 13th, 2004
Under Pressure

God only gives you as much as you can handle, and I'm sure there were some high expectations for me. This month has been filled with finishing my two projects for both of my 400 level graphic design courses, preparing for the Graduation ceremony and the party afterwards, and last but not least, preparing for Christmas. I handle stress well and usually my best results come from having to perform and produce while under the gun. "Here you are in the 9th, two men out and three men on, nowhere to look but inside, where we all respond to pressure" - Billy Joel.

Last week I picked up my gold graduation floor pass for myself and the four golden tickets for guests. I hope to hook up more tickets for guests. For now the tickets I have are going inside wonka bars and will reinforce the Willy Wonka theme established in my Annoucement insert.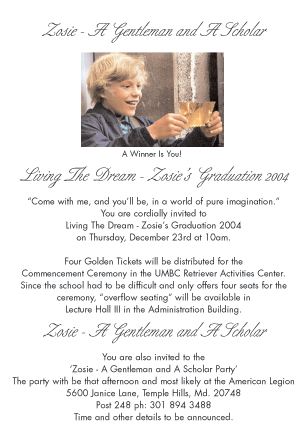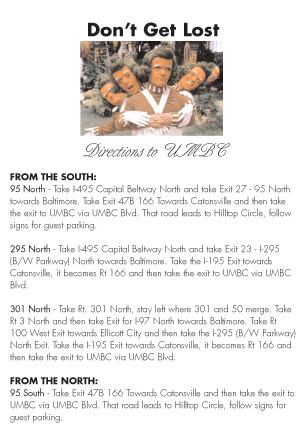 Today was last regular day of class before finals week. I'll have tues the 14th through Sun the 19th as a 'production week' for my final projects. Today was sort of like the last day of regular class in senior year of high school before the graduation. So that would make the two final critique classes like the graduation rehearsal days. Makes me reminisce about the days of passing around the 'burst of gold' Gwynn Park year book, listening to Spring of 95 music and getting ready for Senior Week. Although it doesn't really feel like that at all, it's Christmas time, it's cold and my classmates (like myself) are tired, and busy taking care of their own business. I've been sharp this Fall, and I've been doing college finals since the Fall of 96, so I have become exceedingly efficient at this. To say that I am a pro is an understatement. Like the final days of High School, I will miss these last days of college. The pressure is on like it never has been before, but I wouldn't have it any other way.
-Zosie

You are entitled to your opinion (no matter how wrong it is)
---

Blink 182 - I Miss You


You are entitled to your opinion (no matter how wrong it is)
---
Home | eJournal | Archive