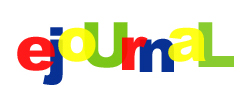 Home | eJournal | Archive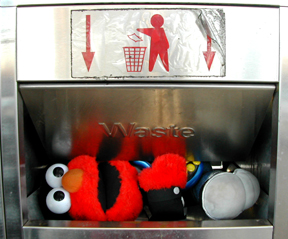 ---
January 30th, 2005
Royal Treatment

I finished January in a relaxing fashion. It was a nice month of kicking back and spending some time again with my good old friend Mr. Television, oh how I missed you so. It was back to watching wrestling, football playoffs, shopping, drinking beer, selling everything on ebay, downloading smut off the web, staring out the window and sleeping.

On Sunday the 23rd I was able to get off of work early and watch both of the NFL conference championship games. It was great to watch them with my dad on a snowy sunday and enjoy some pizza and beers. The games however were one-sided.
Today I enjoyed watching a very good Royal Rumble at Marty's place. Aaron called when it was over and we discussed wrestling in general. This is the build up to one of the better times of the year: the start of spring and Wrestlemania.
-Zosie

You are entitled to your opinion (no matter how wrong it is)
---
January 12th, 2005
El Zol!

Today is a landmark day in history. January 12th will be known as the day Craig was born and the day 99.1 HFS died.
So first happy birthday Craig. We sort of had a mutual birthday party/get together on the 9th when, for the first time, I ordered a wrestling PPV at my house. I watched New Years Revolution with Craig and Marty in my basement. An okay PPV filled with busted knees!

On the 12th I planned a nice trip north towards Balitmore. I got a fresh haircut in Crofton followed by a nice Quiznos lunch. I made a typically aggravating trip into Baltimore city to go to Soundgarden. I met with great success selling back $38. worth of used DVD's and CD's, just enough in store credit to get my copy of Family Guy Vol. 2 and an Outkast Hey Ya single of a 45. It was a fun day followed by a trip to UMBC to return my volume of textbooks and to Arundel Mills, all under a heavy cover of fog.
The fog added to the mystery of the day which surrounded the disappearance of 99.1 HFS - The true alternative. I noticed on the way up 301 towards Crofton that the station was playing all Spanish music. I first thought it was some show or promotion. But by the time I was coming home, it was clear that the station had a new format. They just abruptly went off the air at noon only to be replaced by the mid-atlantic's first foreign language format station. And it would seem I am the only person who finds it odd that a station would just go off the air without any notice to the public. I find that odd, especially considering that HFS had been the longest running station on the radio on the east coast. I was not saddened by the lost, just taken by surprise. The broadcast had become stale and predictable. You couldn't pay them to play some good old classics from groups like Garbage or Soul Coughing etc. So it was not surprising that they lost money and listeners due to the decline in the quality of things like the broadcast, the sucky DJ's, the abscence of the acoustic feast, or the recent sub-par Hfstivals. So I have nothing nice to say at the end, just good riddance and "it was something unpredictable, I'm sorry Jerry Rice, I hope you had the time of your life."
-Zosie

You are entitled to your opinion (no matter how wrong it is)
---
January 3rd, 2005
"I walk a lonely road, the only one that I have ever known."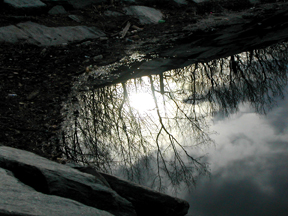 "Don't know where it goes, but it's only me and I walk alone."
Powerful lyrics from the fall of 2005, even more powerful when I hear them on my birthday. I enjoyed another relaxing birthday this year. This year and last year were certainly more scaled down than in the past. I spend some time with my dog in the day and went to Cosca Park for a while. I came home and spent some more time with my Mom and Tinky and played around outside. After beating up on the Eagles on Madden, I went to Red Lobster for a now traditional seafood dinner with my Parents. I had a good meal, a nice night and got some great gifts. It was a cold, quiet night though and a little lonely with family and friends gone. The new year is sort of a let down after all the build up to graduation and the holidays. But I am grateful for the way the year ended and for being able to see my family and friends during that time.

I continued the tradition of not working on or around my birthday and feel blessed just to have made it this far. No regrets, other than the fact that American Idol raised the age limit to 28 and came to DC last fall. If it weren't for college I would have had time to go there because I am so fucking talented. And if I'm wrong then I could have at least made an ass of myself to get on TV...there's always next year.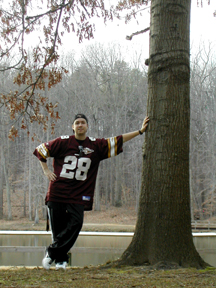 -Zosie

You are entitled to your opinion (no matter how wrong it is)
---
January 1st, 2005
"And though the faces may have changed, the hassles are just the same"

Yes, annnd U2 said everything changes on new years day.
Like the last few years I was fortunate to not work during the entire Christmas holiday season. Infact, better than any of the years before, I had a vacation to celebrate both my Graduation and Christmas spanning from 12/19 to 12/30. But alas, just like the years before, the consequence of having off on Christmas (and Thanksgiving) resulted in working both New Years Eve and Day. But I never get overly excited about new years. Probably because it's a trendy holiday, New Years is the most widely celebrated, longest running holiday in the world.

Looking back I refered to 2002 as the year of change and 2003 as the year of living dangerously. Those were very accurate assessments. It's hard to describe 2004, possibly it was the year of extremes, highs and lows. It started off with a decline in my health following the strenuous end to 2003. I really started to feel my age when I hit 26 but more specifically around the fall of 2003. I noticed how quickly I put on weight or became tired. I became more health conscious in 2004. The spring semester was successful as usual. It wasn't my best or worst, but the highlight was my GD 4 class and the outstanding portfolio projects I produced. It was certainly, along with the fall of 2003, the most social semester I've had. I was able to go to parties, go places or have lunch on and off campus with my classmates, see my friends in general, but at the same time I missed seeing some of my classmates like Min and Annye. I accomplished alot during the summer, especially in regards to cleaning and organizing my home and spending time with family and friends. I tied up lots of loose ends and still had some R & R time. Yet the some of the problems I had with being off the schedule put a damper on the beginning of the summer. I enjoyed my two beach trips and was surprised that I pulled off 5 beach trips and 1 New Jersey trip in two summers. But when my dog Tinky went through a series of strange and expensive illnesses and my Grandmother became sick, the latter part of the summer took on a more serious tone. I would say it placed more focus on family than ever before. The fall was filled with success at school and at home. A championship-like finish to my education, a well earned graduation celebration and the holidays were an awesome way to end a wild year.

Now I try to wind down and return home. I am reminded of the lyrics of The Moody Blues taking me back 10 years to 1995:
"Between the silence of the mountains and the crashing of the sea, there lies a land I once lived in and she's waiting there for me" Those lyrics moved me then and they still do now. I commuted to UMBC for three years and worked many weekends and even some weeknights. Sure I didn't live on campus, but I was away from home more than I would like to be. Now I plan to enjoy what is normally my winter break of January as I am now thrust in the abyss that is post-graduate life.
-Zosie

You are entitled to your opinion (no matter how wrong it is)
---

Scorpions - Winds of Change

---
Home | eJournal | Archive