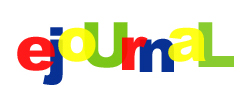 Home | eJournal | Archive
---
November 28th, 2003
It's the wood that makes it good

Yeah, it's the wood that makes it good. But baby, it's the cedar that makes it sweeter.
Today was tree delivery day in Upper Marlboro. Aaron's dad asked back in Oct. if I would be interested working this year. I figured it's better than my ghetto video store. I got up on a cool, foggy Black friday and we started at 7:30am. Muchos arboles. There was a large crew this time, the only other time I did this was back in 2001 with Aaron. I didn't recognize many of the dudes, but it was a fine crew that set sail this morning. We unloaded hundreds of trees in about an hour and a half. We even witnessed one of those lovely 301 accidents. It sounded like a bomb going of when some idiots rear-ended someone. People can't drive in the rain around here and yet they talk on their cell phones and speed to catch Holiday sales, morons.
I also participated in 'buy nothing day', I thank you. I usually don't go shopping just because the media tells me to. I can't stand the traffic and lines either. Plus after working for 6 hours lifting 100 lb plus trees all morning, I didn't really fell like standing in line at Wal*Mart behind some assholes who are whining about pricematching and sale adds.
Instead I came home with my fresh new white pine, took a shower and relaxed. Nothing works the sick out of you like a long hard day of labor and a high lather. I spent some time with my parents and got re-acquainted with the idiot box tonight.
Mr Miller took some pictures of out group. A real blue collar kinda deal, I'd like to get some copies of those digital pics. I don't think I'll put up any pics right now of myself covered in sap and looking beat up. But I did get home and find my new shirt had arrived in the mail, so add another outfit to the gallery.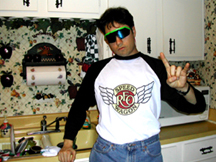 -Zosie


You are entitled to your opinion (no matter how wrong it is)
---
November 27th, 2003
Happy Thanksgiving

Happy Thanksgiving to y'all. Feliz el Dia de Accion de Gracias! I enjoyed turkey day having a meal at home with my mom and then seeing the rest of the family at my dad's house. The football games were so-so, I felt a little under the weather so I just chilled, and ate as when I could tonight. I got to see the majority of my family as usual with a few not present. I noticed once again that the holiday itself, much like the seasons and even the years, flys by so fast. When I was a kid it seemed like an eternity before the holidays would arrive, now I just speed through them and wonder where the year went.
And I should mention HFS got away from acoustic music last year, they did some A-Z thing this weekend. Well screw them, I making an acoustic mix cd for my family and friends. Enjoy the holiday!

-Zosie

You are entitled to your opinion (no matter how wrong it is)
---
November 21st, 2003
Man in the Mirror

I registered for my classes for next spring. I got what I wanted and have a decent schedule, of course because I am the man right now. Looks like I'll be done by next fall. I'm not sure how I feel about graduating in the winter instead of the following spring. May/June seems like the traditional time for it, but we'll see.

I've started the holiday shopping early, I usually start to find things here and there early in the fall to beat the rush and pressure. I visited the new best buy in Waldorf, Md tonight. I really didn't need to go, but was curious to check it out. It's similar to the one in Bowie, Md and like the one in Bowie, I caught them on their grand opening day. What a fuck-fest, every slack-jawed yokel in the area drooling over electronics. At least it wasn't a total waste, I got my Peter Gabriel HIT Cd for only 9.99. And the whole HIT thing is a heavy reminder of workshop, but I'll get back to that later.

On a sad note I heard nothing but bad news about Michael Jackson on the news these past few days. I've always liked MJ, it was a shame to see him become a recluse, and then a running joke for the media. Looks like his recent naughty business will take some of the attention off of Kobey and Paris Hilton. So I thought I'd get back to good old fashioned 'copy and paste' song lyrics:

Iím Gonna Make A Change, For Once In My Life
Itís Gonna Feel Real Good, Gonna Make A Difference, Gonna MakeIt Right . . .
As I, Turn Up The Collar On, My Favorite Winter Coat, This Wind Is Blowiní My Mind
I See The Kids In The Street, With Not Enough To Eat
Who Am I, To Be Blind? Pretending Not To See Their Needs
A Summerís Disregard, A Broken Bottle Top, And A One Manís Soul
They Follow Each Other On The Wind Yaí Know, ĎCause They Got Nowhere To Go
Thatís Why I Want You To Know


Iím Starting With The Man In The Mirror, Iím Asking Him To Change His Ways
And No Message Could Have Been Any Clearer
If You Wanna Make The World A Better Place (If You Wanna Make The World A Better Place)
Take A Look At Yourself, And Then Make A Change (Take A Look At Yourself, And Then Make A Change)
(Na Na Na, Na Na Na, Na Na, Na Nah)


Iíve Been A Victim Of, A Selfish Kind Of Love, Itís Time That I Realize
That There Are Some With No Home, Not A Nickel To Loan
Could It Be Really Me, Pretending That Theyíre Not Alone?
A Willow Deeply Scarred, Somebodyís Broken Heart, And A Washed-Out Dream (Washed-Out Dream)
They Follow The Pattern Of The Wind, Yaí See
Cause They Got No Place To Be, Thatís Why Iím Starting With Me (Starting With Me!)


Iím Starting With The Man In The Mirror (Ooh!) Iím Asking Him To Change His Ways (Ooh!)
And No Message Could Have Been Any Clearer
If You Wanna Make The World A Better Place (If You Wanna Make The World A Better Place)
Take A Look At Yourself And Then Make A Change (Take A Look At Yourself And Then Make A Change)
Make that change!
Michael Jackson - Man In The Mirror

-Zosie

You are entitled to your opinion (no matter how wrong it is)
---
November 18th, 2003
Bend it like Vader

I've tried to cut back on shopping and superfluous spending, key word is tried. I have cut back some on DVD's, My PS2 and Gamecubes were hook-ups as well as some of the games. But since September I've made some game purchases, a CD here and there.
Today was another average and stress-free day at school. I've knocked out a majority of what needs to be done this semester. I stopped by some stores on the way home since it's tuesday and so many things came out. I only bought two DVD's:
Strangers with Candy Season 2 and Three O'Clock High, well worth the wait. I recomend both, if you like Strangers w/ Candy then this is just more of the same, and Three O'Clock High is just one of my 80's classics (with music by Tangerine Dream and Soundtrack produced by Varese Sarabande.)

But one of the best shopping experiences I usually have, believe it or not, is going to Value Village Thrift Store. I've been going on Saturday after my day shift is over. I've made some interesting purchases this summer and fall, too many to document with pictures on here. Most recently I bought a nicely framed Flashdance poster and this cool late 80's illustration of some new wave chic, both for the new 80's motif in my room.
I also found some Star Wars bend-ums! Unfortunately there were only 8 characters, but they were in one plastic bag, clean, and cheap.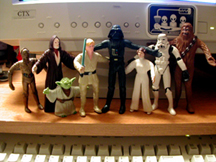 -Zosie

You are entitled to your opinion (no matter how wrong it is)
---
November 14th, 2003
Christmas Music

They've already started playing Chistmas music all day and night on some stations like soft rock 97.1. I like to hear it, not necessarily as the total format 24/7, but more importantly weeks prior to Thanksgiving. Maybe it's just me, but I don't like to hear the music or see the yard decorations until at least Thanksgiving weekend.

-Zosie

You are entitled to your opinion (no matter how wrong it is)
---
November 4th, 2003
Our Time In Eden

Just like last year, and just like eight years ago, there is something special about late October and early November. Historically November 4th has been a good day for me, especially in 95 with the first orientation at bbv and homecoming.
Today was just gorgeous, a sunny day early in November with temps in the high 70's. Last Thurs we didn't have a typography class, today we did, but it was a really neat seminar with some paper mill people and some free samples. I turned in a paper for my Hist. class and realized I only have one thing to work on now. I got a well deserved A on my book jacket design.
I worked on my GD paper at Patapsco park since the weather was so nice. The brown leaves were fallng like snow under warm, intense sunshine, very surreal.

I had lunch again on Rt 1 with Annye and Min. I really enjoy having great people around me since I've been at UMBC. At community college everyone was kind of coming and going, here it's different. We're all in it for the long haul, and I consider many of my classmate to be great people and great friends. These few years have been a special time, I will miss these days when I am done with college. I wasn't very happy when I worked full time. I am enjoying how carefree these few years have been compared to when I was working. I also enjoy being able to use the excuse "I'm a student."
Like High School, you only get to do this once. And like High School, I am getting to the point where I can't wait to get out, yet I don't want it to end.
Things can only get tougher in the future. You start to think about things and get leary of change. Some rough days are ahead down the road with jobs/career, war and the news of the world, people growing old and dying, people moving away and moving on, etc.

Every day is a gift now. I've had lots of second chances and opportunites given to me. Life has been better for me since the Fall of 2001. I decided take advantage of the chance I've been given. When I finally get that degree know one can take away what I have earned. All the woes and setbacks from past years will just be life lessons. When I graduate I can leave the struggles of the past behind, every day from there on will be gravy.
I should wake up every day and cherish the fact that I have a lot and have lots of good things going for me. This has been a new beginning of another life. It's our time in Eden.

-Zosie

You are entitled to your opinion (no matter how wrong it is)
---
November 3rd, 2003
And the Skins

I barely payed attention to the Cowboys/Redskins game because I knew it would suck. You almost get used to it after awhile, the Redskins have had a decade of disappointment. They haven't been great since the last super bowl and the Joe Gibbs era. They have since been lucky to finish at 8-8. So in the tradition of those beer commercials and ESPN's version, I wrote a sarcastic little "Twins" jingle myself:

I love Ramsey eatin' dirt, players playin' hurt, losin' on Dallas turf...and Twins
And I love, angry disgruntled fans, receivers gettin' jammed, a coach about to get canned, with few wins
And I Love You Too!

-Zosie


You are entitled to your opinion (no matter how wrong it is)
---
November 1st, 2003
Photoshop this girl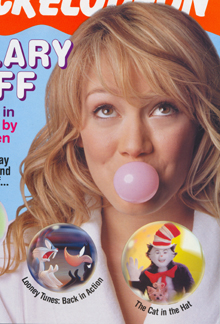 As you just saw in the previous entry it's like national weirdo in a white male mask month, so give Rich a birthday shoutout!
Anyway let's get down to business. For the holiday season Zosie.com presents a photoshop contest (or something to get a laugh out of Craig and Alan, the only two people who read this stupid thing.)


The contest and the rules are simple:
Take the image provided of Hillary Duff from the Nickolodeon magazine and manipulate it in photoshop and enter it in the contest.
All interested should e-mail me for a copy of the file scanned at a higher resolution.
Zosie (or Rich) will not be able to enter the contest due to a conflict of interest. Plus if I were to actually post the manipulation that I have already done to the image, they would probably have my ass deported.
All entries must be received no later than Dec. 15th, 2003
Prizes to be awarded will vary in quality and validity, prizes may change at any time, rules or very nature of contest may be altered at any time without notice and without a reason, veribid and nexcom reserve any and all rights to reject entries and/or retract prizes.

Thanks and enjoy some low brow fun.
-Zosie


You are entitled to your opinion (no matter how wrong it is)
---
November 1st, 2003
Happy Birthday, Richard Bartholomew, Happy Birthday To You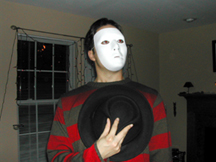 Happy Birthday to me. It was over a year ago, October of 2002. The creative gears were being greased and put into motion. I was inspired to regain the momentum I had going from earlier in the year. Art History classes, teachers, friends and family provided some inspiration, and a lot of inspiration came from within. A great October filled with Baseball, Football, Snipers, and Art culminating with Halloween. I was on fire!


By Halloween I had finished my portfolio. It was a busy, stressful, yet bittersweet period that semester. I knew I had it, and overall 2002 would be a successful year. I spent that Halloween double checking my work and passing out candy to the kiddies.


On November 1st I woke up on a cold, crisp fall day and another era began, The Rich B. Ornate era. Rich sets an example to all, keep one thing the same: change. Evolution, adapt or be adapted. And one more sentiment from this year as I reflect upon last year: "Let's make this the new beginning of another life."
-Rich


You are entitled to your opinion (no matter how wrong it is)
---

Cold Play - The Scientist


You are entitled to your opinion (no matter how wrong it is)
---
Home | eJournal | Archive