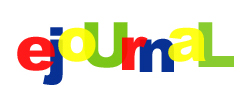 Home | eJournal | Archive
---
October 31st, 2003
Happy Happy Halloween, Silver Shamrock/You Get A Pumpkin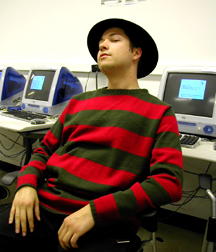 Looks like I'm freddy this Halloween. And of course warm temperatures return when I decide to where a costume with a sweater. So for this Halloween, whatever you do, don't...fall...asleep.
-Zosie


You are entitled to your opinion (no matter how wrong it is)
---
October 28th, 2003
Fram, Chassey!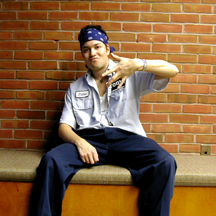 Today I am Pablo the shop guy. And the clothing works now that it's warm again.
I even sported my Brahma Boots.


Brunnel's Boots? The Brahma Bull??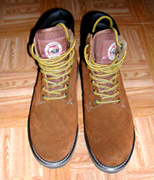 Noooo, the Brahma Boots


-Zosie


You are entitled to your opinion (no matter how wrong it is)
---
October 27th, 2003
"I'm just an average jo..."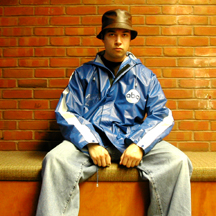 Today was an extremely windy and rainy day, Mucho viento y llueve! The weather complimented my attire. I dressed up as Aaron V. Miller ABC Rain Coat and Hat edition. I even sported the troggs.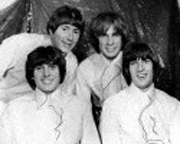 These troggs?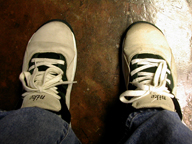 Noooo, these troggs, the nike troggs.


I wonder if dressing up as people you know is creepier than actual halloween costumes. What do you think?
-Zosie


You are entitled to your opinion (no matter how wrong it is)
---
October 25th, 2003
Time Lord

I had planned to go shopping but really didn't feel like trying to rush to stores before they close at 8 or 9 on a saturday, what's up with that. I enjoyed a nice dinner and the Marlins crushing and beating the Yankees in the World Series instead. I also had a chance to do some things around the house for a change.

Tonight I traveled back in time too. Which is good considering I came home from school on Thurs and fell asleep during the World Series/Smackdown and didn't wake up until 5am only to change out of my McFly outfit and then sleep some more until late friday morning, I lost some time there. With daylight savings time I guess we all travel back in time. In fact, my computer, my vcrs and my wireless phone all seem to do it by themselves.
It's actually yet another excuse to stay up late, you say, "Well, the time changes at 2 and I was going to stay up that late anyway, and if I go to bed at like 3:30 it's really only 2:30..."
-Zosie

You are entitled to your opinion (no matter how wrong it is)
---
October 23rd, 2003
Nobody calls me chicken

Okay, so today I re-hashed the Marty McFly outfit from back in May.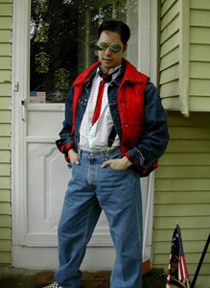 -Zosie


You are entitled to your opinion (no matter how wrong it is)
---
October 21st, 2003
Super Man On Campus

Dress up week is back. With Halloween coming next week, you get dress up week this week as well as next week. So double the dress up for the price of one. Will I dress up every day from Mon the 21st to Fri the 31st, document it with photos and put all that on here? Probably not, I will dress up on key days and post the highlights, enjoy.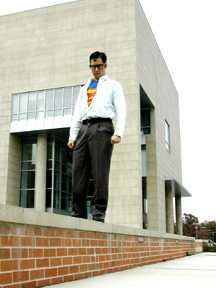 Today I was Clark Kent, preparing to become something super.
-Zosie


You are entitled to your opinion (no matter how wrong it is)
---
October 20th, 2003
Classic Rock?

On the way to school today I heard Soul Asylum - Runaway Train on classic rock 98.3 star fm. The format is usually hits of the 60's, 70's and 80's, so it seemed a little odd. Then I listened to the ABC news which is a great news break. Then they played Blind Melon - No Rain. I had a confused expression on my face like Matt on the Joe Schmo Show. And once again when the 90's become 'classic' I start to feel old.
-Zosie

You are entitled to your opinion (no matter how wrong it is)
---
October 18th, 2003
October Classic

I watched the USA original movie 'D.C. Sniper - 23 Days in October' last night. It really took me back to last October, 2002. I liked it, thought it was done well. I heard people on the radio complaining that "it was too early to be putting this on TV..." Of course they did put that 9-11 documentary on tv like 6 months after 9-11 on 3-11.
But it was almost creepy how they followed the timeline of everything that happened within the hour and a half of the movie. They showed all these towns in MD and VA, all places I'm familiar with. It was like revisiting three weeks of my life through documentation.

Today was a nice crisp fall day wasted again at work. There was a nice cool wind and a vibrant, vivid sunset. After watching that movie and thinking about last fall, I took a page out of Aaron's book and started reminiscing about the past.
There is something special about the fall season and October in particular. I focused on my Fall classics. I went back and thought of Zosie's in the fall from the past 10 years.

Here are some recent, brief examples. Which is your favorite Zosie(s) from fall's past? Which is your favorite, or top 2-3?
1993 - Back in the game - Zosie fresh off a year riddled with injuries gets back to basics. My junior year and first experience in TV production. The creativity was back in full swing.
1994 - The golden era - The final fall of my High School days, and the beginning of my Senior year. Watching Charles in Charge and Melrose Place. Listening to Green Day and classic rock. Thinking of Girls and having the time of my life with my friends. Almost perfect in all areas and continuing to explore my creativity.
1995 - Scheme! - Fresh off a war with Sharon, the devious child was back to devise a scheme to use Rachel to get back at Sharon with Homecoming fast approaching. It was right out of Melrose Place. On Nov. 4th I made it to homecoming and got a job all on the same day after a stellar October.
1996 - The trial of the Aarocrozies/9ESchwaG Corp - I often call it the tragic year, by the fall, our vehicles and relationships were demolished. I was looking at going on trial for my life. And in the midst of all this I started college for the first time at P.G. and started to grow up.
1997 - Crazy Love - My last full time semester at P.G. before going part time, it was an almost romantic fall capping off a great year.
1998 - Let Down - Not much to say about the end of the year considered a 'let down'. Part time in school, full time at work and just haning around. At least I had got back into wrestling earlier in the Spring and had that to turn to.
1999 - Y2Blah - Another mediocre fall, still part time in school and quickly fading away. The borders era was closing out as well. Fond farewells as change was coming with new jobs and homes. At least no one got hurt from the killer bees, the Y2K bug or the second coming. What did we do with all that bottled water and canned tuna anyway?
2000 - New Century sort of... - Back to P.G. and no longer just 'taking classes'. This time I had a plan, found my major and would finish up strong.
2001 - Winds of Change - The world started to fall apart so it was time to fix my life. Everything from getting accepted to UMBC to selling Christmas trees with Aaron, it was a nice semester off and a good precursor to the great changes made in 2002
2002 - Under the Gun - With pressure mounting and under the fire of a sniper, I had little time and one last shot to make a name for myself. In a do or die situation, I broke away for the first time from Blockbuster as a full-time gig, got straight A's, got accepted to the Visual Arts program, and introduced yet another personality to the world: Rich B. Ornate, an instant classic.

-Zosie


You are entitled to your opinion (no matter how wrong it is)
---
October 16th, 2003
Whining about the pennant

Stylin' N' Profilin', I am still the man, wooo!
It's been another tiring yet successful week. I aced two midterms and did an awesome job on a Book Jacket design for GD II.
I disappointed myself by watching the Baseball League Championships. As I mentioned before, I had such high hopes that the Cubs and Red Sox would win. Both teams had a solid chance of winning it, but Chicago choked and lost the NLCS on Wed. and Boston did the same in the ALCS on Thurs. I knew it was all going to hell when during the Cubs game they dragged out Billy Corgan's tired, whiny ass to sing his rendition of 'Take Me Out to the Ball Game' during the 7th inning stretch. That and seeing former Oriole Raphael Palmeiro doing viagra commercials on tv, oh how the mighty have fallen.
It continued to be downhill after that. People blamed the fan who interfered with a foul ball, people started going back to the curses, curse of the Bambino, curse of the donkey...I'm like, curse of the donkey, but Tiffany has only been in Chicago for a couple of weeks...
Anyway, everyone started whining about the poor fans of these teams and how they have been so disappointed for so long. But what about poor fans like myself who have to see the Yankees in the world series like every year. I think it's 6 appearances in the last 8 years to be exact. That's a curse there, I hate the Yankees and the Cowboys and yet they have the most championship game appearances. I just want my teams to get back on top.
-Zosie

You are entitled to your opinion (no matter how wrong it is)
---
October 11th, 2003
You get a pumpkin

Things have been getting better since late September. The Redskins are above .500, I'm enjoying the Baseball playoffs and looking forward to The Cubs vs The Red Sox in the World Series although it probably won't happen. The new Perfect Circle and Outkast albums are great, go get them.
What do you think of the Rich vs. Zosie front page? Seasonal and creepy, spoooky stuff. I'm getting into a halloween mode, especially after watching Beyond Re-animator on FX, another gore filled sequal.

I'm loving the cheesy, local or ghetto commercials I see when watching WWE Raw:
1) Macho Man.com Macho Man is back, I didn't notice he was gone. He's got a CD too, check out his site, ooooh yeah, dig it!
2) Geeks On Call.com Those geeks on call have a geeky commercial. I wonder if I could start a company called dorks on call. These guys seem to provide a legitimate service, what kind of practical purpose would my Dorks on call serve though?
3) H.O.B.O. Shop.com HOBO - Helping our Brothas Out. Funny commercial, a must see. "Go hit the Hobo Shop in Capitol Heights!" (also conveniently located in Waldorf, Md and South Street, Philadelphia, Pa??)
-Zosie

You are entitled to your opinion (no matter how wrong it is)
---
October 3rd, 2003
Hell week

After having everything due in one week 9/30 - 10/2 I needed a day off. I had a good, successful week, but very exhausting. Tests, papers, projects, etc. I had no free time. So today on Friday for the first time in a while I had a full day off. I had wanted to hang out with Marty since I haven't see him in a while. Sure enough he called me first and he had free tickets to the Washington Capitals game. We had a good time at the MCI center watching the Caps win and enjoyed his PC game 'Postal 2' later on. Very violent, even worse than GTA. Then we went with Josh to the Legion in Oxon Hill to shoot some pool. I need these breaks to remind myself that I still have a life.
-Zosie

You are entitled to your opinion (no matter how wrong it is)
---

Rockwell - Somebody's Watching Me


You are entitled to your opinion (no matter how wrong it is)
---
Home | eJournal | Archive