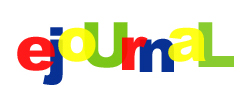 Home | eJournal | Archive
---
September 27th, 2004
Are You Ready For Some Losing?

I went to the Redskins vs Cowboys game tonight with my Dad and Aunt. And it was a well deserved treat considering I spent most of September busting my ass for my school work, especially my Advanced Typography Class. I had off Friday and Sunday this past weekend and used alot of the time to finish my research paper. The first project for the class was a research paper and an 18 x 24 poster on a typographer and his/her typeface. I did Paul Renner and Futura. I raised the bar as usual and designed a nice poster, and picked it up from the printer on Friday morning. I also grabbed lots of nice books from Enoch Pratt and the McKeldin Library at College Park. I spent hours finishing the paper on the weekend and all I cared about was getting it right. I was no easy task considering that it required a minimum of 10 pages, 1 inch margins, 1.5 spacing, 10 pt type, tons of research and 10 images. Last semester I got an A on my Goya paper in 19th century art history but got a B plus on my print media paper on propaganda posters. I had had thought those would be the last papers I would do at the University, trick school. So with this probably being the last paper for my first undergraduate degree, I badly wanted an A.

So anyway, to make a long story longer, I stayed up most of Sunday night bangin' it out and got about 4 to 5 hours sleep. I went to class and we read each others papers. I got a thumbs up on my poster too. Then thankfully we got out of class one hour early at 5pm so I could get a head start on getting to Landover for the football game.

The experience of going to a Redskins/Cowboys game on a Monday night is something I will never forget. I met up with my Aunt Carla at my Dad's place and she drove us to Landover. The tickets were a hook up from my Dad's work (Thanks Washington Post!), and my Aunt's boyfriend hooked us up with the parking. We got there early, about 7:45pm (I was punctual for once). Then we took pictures like crazy, got some eats, and got to the seats. My dad and his co-workers soon filled up the section we were in and it was time to watch Monday night football and some losing by my team. We had really good seats in the 100 section near the portal where the Redskins enter and exit from and we even took pictures with Chief and the Hogettes. Over all we enjoyed the night, even after getting home around 2am. I can say that I will always remember events and days like these which added to my awesome final years in college.

-Zosie

You are entitled to your opinion (no matter how wrong it is)
---
September 18th, 2004
Here Lies Judith Myers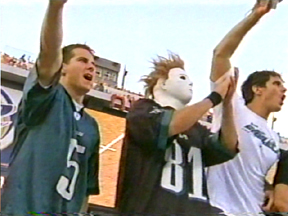 Apparently Michael Myers has taken a break this fall from chopping down the citizens of Haddonfield, Il and is cheering on the Philadelphia Eagles. Who knew!?

I haven't updated my ejournal in a while and I thought it was high time I did. I've been too busy to update this thing since school started on Sept 1st, and during the summer I was having too much fun to waste my time daily, trying to entertain a bunch of goons on the web. My update pattern this year (esp this summer) was posting entries in bulk, I figured you're pretty lame and/or geeky if you spend your summer vacation from college typing up your daily web journal.

So what's been going on? Started school as mentioned on Sept 1st and 2nd. I'm happy with my two final GD classes, the time and schedule, and all the things I have to look forward to. The work load is going to be rough, but nobody said it was easy, no one ever said it would be this hard. (Zosie turns his head to the side and mutters: Cold Plaaaaay!)
Anyway, on the 2nd I celebrated the beginning of the semester by hanging out with Marty and the Temple Hills Crew. We went to the Legion where I met Marty's friend Tom for the first time. Then later we went to the HideAway and played billiards. Then we stayed up late for a bonfire at Bud and Kelly's followed by an all night journey through what's left of the forest behing their home. Nothing says fun like muddy sandles and drunken mischief.

Then unlike last year when I quit for about a month, I actually had to work labor day weekend. I worked Sat, Sun and Mon. On the 9th I started hitting the libraries for research materials. Class was cancelled which gave me a three hour head start to go to Enoch Pratt Library in Baltimore. It was weird that they took away all the parking meters and installed a machine that gives you a stub to place in your window. That worked out fine, what I didn't know since the meters and the rules are gone is that you can't park anywhere around there from 4 to 6pm. So my car was towed and I had to pay a hefty towing fee. Later on I enjoyed the NFL kickoff. The Patriots beat the Colts. Tom Brady and the Patriots never lose (unless they're playing the Redskins). I shall name these past three years the UMBC/Tom Brady era of my life.

Now I'm switching my mind back into freak mode (Warren GGGGG.) Actually I'm switching back to work mode after being spoiled by the long summer break. I think everyone is having a little trouble breaking out of the vacation funk and staying on task. I have felt more relaxed, organized and prepared in 2004 than I have in a long time. I've applied for graduation, I'm doing my research and work for my classes and ready for some football. I think I'm gonna order my school ring and run around yelling seniors! What else is new?

-Zosie

You are entitled to your opinion (no matter how wrong it is)
---
September 2nd, 2004
Zosie - A Gentleman and A Scholar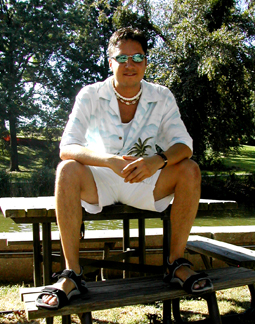 My summer vacation officially came to an end on Wednesday September 1st., and the fucking sun is still shining on me. I enjoyed my summer, and like last year, I didn't work 40 plus hours and enjoyed some vacation time. I had a Jersey Trip and three beach trips last summer, this year I had a North Carolina trip and Ocean City trips. Not to mention a lot of time at home, with friends and with the family. I dealt with my annual bad season and fought to enjoy the end of my summer. The worst parts of the summer were dealing with debt, missing those couple weeks at work, my dog's visits to the vet, and my Grandmother's cancer. The best parts were swimming, tanning, bowling, movies: Riddick, Fahrenheit 9/11, Spiderman 2, getting hooked on Adult Swim and Family Guy, Futurama, Sea Lab 2021, and Aqua Teen Hunger Force, a very successful and profitable experience selling things on ebay, cleaning up my home, exercise, and the great vacations and spending time with my friends and family.

I started school on the 1st, a little later than usual. I have Graphic Design 6 on M/W and 7 on T/Th. The classes are almost 4 hrs, but at least they don't start until the afternoon. Last year I said 'the future's so bright, I gotta wear shades.' and in January I said 'I was on a vision quest.' Well, I was right, and now I prepare for graduation as I start my 6th and final semester at UMBC. I finished my last electives and gfr's last spring. And now I feel confident having finished 5 successful semesters at UMBC. Each one had challenges that were hard to overcome. Getting accepted to the school, math and spanish classes, my portfolio, two gateway courses, the core art courses and tons of history classes, papers and tests, and hard design studio courses are some highlights of the challenges I had to face. I aced my Graphic Design and art core courses and maintained a high GPA, academic honors and the Dean's List. I never lost faith, and I still have faith. I go into this fall with my head held high, confident, and ready to finish these last two classes and get my degree.

It was also great to come back after a 3 and a half month break and see my classmates again, and finding out that many will be graduating with me in December. It feels right and the timing is right as usual. It was little sad this year with Annye being gone though.
My last challenge now is to do good in these capstone courses and produce a fine portfolio. It looks like I'll be in class until Dec. 21st. and graduate on the 23rd., more details on that later. I will title my graduation celebration -- Zosie - A Gentleman and A Scholar.

Once again I leave you with this (but with a little inside humor added for a change):
"Please choose a piece of artwork from the slide carousel and write a 2-4 page paper, be sure to place the piece in its social and theological contexts..."

"The art is nominal. From the windows, to the walls, till the paint runs down my balls. And I assure you, nobody's dongs have been up in these."

-Zosie

You are entitled to your opinion (no matter how wrong it is)
---

When In Rome - The Promise


You are entitled to your opinion (no matter how wrong it is)
---
---
Home | eJournal | Archive