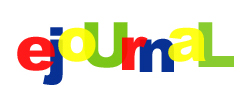 Home | eJournal | Archive
---
June 28th, 2004
Mary Kate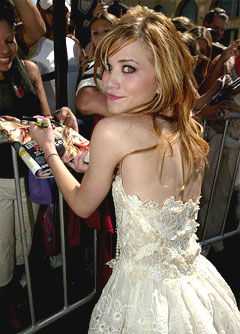 Nation turns attention to starving Olsen Twin

LOS ANGELES, California (Reuters) In a surprise twist of events, The Nations shifts its focus from the transfer of power in Iraq, to pop icon Mary Kate Olsen's eating disorder.
More on Zosie.com News

-Zosie

You are entitled to your opinion (no matter how wrong it is)
---
June 24th, 2004
Wisdom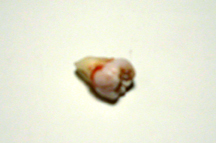 Contraction leads to removal of 31st tooth

OXON HILL, Maryland (Reuters) A year and a half later after the removal of the 32nd tooth (Wisdom tooth #17), contraction continues as the 31st tooth is removed.
More on Zosie.com News

-Zosie

You are entitled to your opinion (no matter how wrong it is)
---
June 22nd, 2004
The News of the world
Las Noticias del Mundo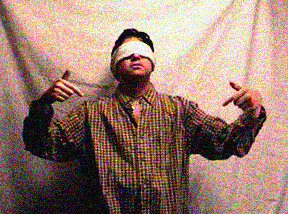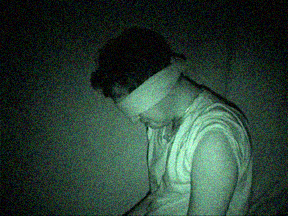 With the world continuing to fall apart, there is no time like the present for this site, and this journalist, to create a respectable news section. It is perhaps a civic duty and responsibility that this site will take on by providing the public with only the most accurate news information on an inconsistent basis.
The news may be integrated with the ejournal, stay tuned for changes and updates.

-Zosie

You are entitled to your opinion (no matter how wrong it is)
---
June 17th, 2004
Day of the Aarocrozies/I learned the truth at seventeen

Today I celebrate the 10th anniversary of the Day of the Aarocrozies. Most would be oblivious to what that means, it's not something out of a sci-fi flick, rather something out of the sci-fi influenced minds of a few 'depraved, incorrigibly evil hoodlums'. June 17th, 1994 was a workshop kind of day, a special landmark in the lives of my best friends and myself. I reflected upon that era today and the lyrics of Janas Ian's At Seventeen seemed relevant in part:
It was long ago and far away, the world was younger than today...at seventeen...I learned the truth.

It was a beautiful, bittersweet experience recalling the memories of a hot, hazy Maryland morning (dig that alliteration). It was kind of ironic, the infamous quote I uttered that morning in reference to COR, I wouldn't fuck her with a stolen dick!" One year later it was if God said, "Oh yeah, well we'll see..." I retrieved a few documents in memory of the day. The photocopy of Aaron's now legendary, hand written passage 'Day of the Aarocrozies', a list I had made of all the stores we went into and some photos from that spring, and summer including this one from the morning of the 17th: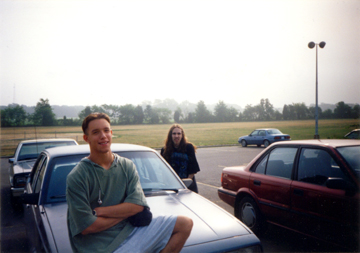 It was uncanny when I thought of all the other significant events on June 17th. Of course, later in the evening on June 17th, 1994 was the famous O.J. Simpson freeway chase. And it is my dog Tinky's birthday. I made a special effort to spend some extra time with him today. Also I got robbed on this date a year ago and there's no need to elaborate on that. I was kind of funny, I had to stop by there tonight to sign some paperwork and had forgotten that it was the one year anniversary during the afternoon. I remembered it when I pulled up to the store and noticed it was 10:40pm which was the dreaded time from exactly a year before, had it been 95-97 I would have shouted 'workshop', had it been the movie final destination, I would be dead. I found out today that my classmate and friend Annye has moved to Florida. After that all hell broke loose when the daily violent thunderstorms and tornadoes destroyed the area.
Anyway, it would be neat to look up the date to see what other significant events had occured in both my life, the lives of my family and friends, and around the world in general. Perhaps there is some cosmic significance to this day. For now I will leave you with a copy of the Day of the Aarocrozies.

Today, (echo) on the seventeenth of June, In the year of nineteen hundred and ninety four, three depraved, incorrigibly evil hoodlums have gathered to begin a tradition which will continue long throughout their senior year. Oh, yes, as we travel in Craig's parents' car, furtive as this auspicious occasion might be, we will flaunt our fatuous ways & show off our idiosyncratic lifestyles, in an attempt to be ostracized by our vapid community. We will show that we are not always diffident and docile, but bombastic beasts who use our acumen to gesticulate society in our own narcissistic fashion. We are not sycophants, flatterers, or toadies; but intrepid sybarites who live a life of anti-ennui. We will not be part of this bourgeois Generation X, nor will we adopt this new age Lingo associated with it. Finally I will end this harangue by saying "we must palpitate the neophytes, reconnoiter the grandiloquent imbroglio and tear this day asunder!"

Whatever was said there...I couldn't have said it any better myself.

-Zosie

You are entitled to your opinion (no matter how wrong it is)
---
June 11th, 2004
We don't know who we are anymore

It's the time of the season
It's been a hectic week. I probably had my last sunday off for a while on the 6th. I watched the NBA finals and the finale of Sopranos. I started the week off with my first official bowling class on mon the 7th. I did not realize throwing a heavy ball would wear on your arm and your hips so much. And I did some running, played some basketball and I also swam in UMBC's outdoor pool for the first time this week, so I may have overdone it a little with the exercise. It seems like the chorus of cecadas is beginning to vanish. They're still around, just fading out. And while their season seems to be coming to a close, I've been under pressure and worrying that my annual bad season may arrive soon.

And now that it's gone, we don't know who we are anymore
Of course in big news over the weekend and during this week was the passing of Reagan. I placed a photo of Reagan on the screen of the older TV in my basement, reminiscent of the movie SLC Punk. I have fond memories of Reagan, considering I was born when Carter was in office and quickly grew up in the 80's with Reagan. For the uninformed, my Grandfather spent his career, after the navy, working in the white house for several presidents. One of my fondest childhood memories was when he would take me to work with him. He retired when Reagan left so it's a special time and special memories I can never duplicate. And like many, I was happy that Reagan ended the cold war. And now that the wall is gone, we don't know who we are anymore. How strange after all that, he dies during a time when I no longer support democracy, a discussion for another day. Regardless of whether you are a Republican or a Democrat though, you need to show some respect for Reagan and that's all I'm going to say about that.
Also on monday I came home and found out some bad news concerning my family, personal and too long to discuss on the internet though. On a lighter note, I found a turtle that evening in my backyard and kept him until friday. My dog went crazy because I had a new friend roming around the house.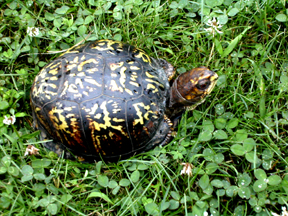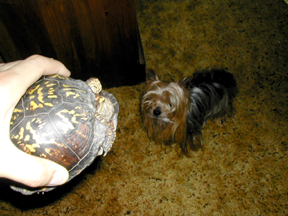 They could repossess my car, I wouldn't know, Cause I'll be watching Season 1 of the Greatest American Hero.
That's what I said when I talked to Aaron on the phone the other night. We were amazed with all the DVD's that came out this tuesday (and within the last few weeks) and how you could go broke if you're not careful. Example: The A-Team Season 1, Quantum Leap Season 1, Playmakers Season 1, Who's the Boss Season 1, Smallville Season 2, Dukes of Hazard Season 1, Another MASH and too many movies to list.
I've been avoiding big DVD or game shopping because things have been tight, but oh how the industry loves to dangle the meat on a stick, right in front of my face.

Leading Men
I went to see a free advanced screening of The Chronicles of Riddick on Thurs with Marty, Josh and Temple Hills crew. Vin Diesel is so cool. Best free movie in a theatre that I've seen in a while. And being at Potomac Yards, I was able to get there fast, and get back home afterwards to catch the rest of the game.
I used some discipline for a change and avoided buying any DVD's. I did buy the Velvet Revolver album which is pretty good. I remember when I heard the single the first few times, they didn't actually say it was Velvet Revolver at the end, so I assumed it was STP. Then when I heard the group's name I said bullshit, that's STP. I started thinking about how there has been a lot of lead singer swapping in music lately. Audio Slave is Rage w/ Chris Cornell, Z-Wan is basically Smashing Pumpkins, and of course VR is Guns N Roses w/ Scott Wyland. With all these mismatched bands I can't keep track...I'm confused...I don't know who they are anymore.

American Idle
Speaking of lead singers (how about that for a fucking segway), I'm thinking about audtioning for American Idol. In May, they mentioned that for season four next year, DC is one of their audition stops. How fucking convenient is that? Now picture it:
Randy: Who's next here, we got Zosie form Maryland, local boy, whatcha gonna sing for us today.
Zosie: When I Need You by Leo Sayer....When I need you, I just close my eyes and I'm with you, and all that...
Simon: Thank you, thank you. That was dreadfully awful, I mean it was like the worst thing I've ever heard.
Now believe me when I say that I'm tired of having spent my early years talking about what I'm going to do. With college almost finished, I'm gonna start doing the things. I will go to DC to audition for American Idol, I am going to enter the WWE's Catch the Buzz, Feel the Bling contest (see wwe.com) and I want to make an attempt to move to NYC when I graduate. I would also like to take a shot at becoming a dancer. Now believe that playa.

-Zosie

You are entitled to your opinion (no matter how wrong it is)
---
June 5th, 2004
Ronald Reagan - 1911 - 2004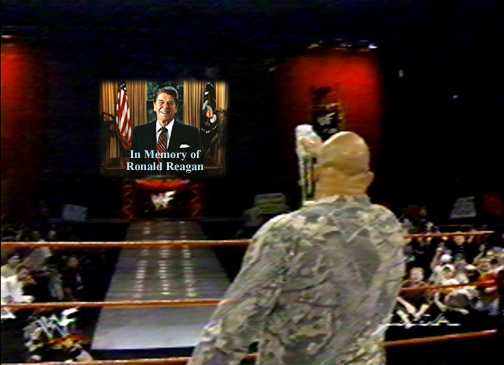 I say goodbye and pay my respects
to the greatest president you ever knew.

-Zosie

You are entitled to your opinion (no matter how wrong it is)
---
June 2nd, 2004
17 year itch

On the 9th anniversary of my High School graduation, I returned to UMBC for day one of the summer session. I had my first bowling class today, although there was no actual bowling. It was the typical meet for the first day, get a syllabus, and leave after 20 minutes. Since I had extra time leftover, I decided to take some books back to Enoch Pratt library in Baltimore city. Then I mailed some of my ebay packages and hung around the school. I had made a trip to the post office in the morning since I had so many boxes. I mailed half then, and half later in the day when I was in Columbia. Why do they constantly ask me if my packages contain any hazardous materials, chemicals, explosives or anything potentially dangerous? If your package did contain any of these, would you really tell them? They also seem to give you a weird look when you use a cardboard box from home, rather than their boxes. I choose to use the free boxes I take home from work instead of being forced to pay their expensive priority mail costs. I think they are giving me the evil eye because I use a different method, much like the way Aaron bought a ticket online for a flight to Maryland a few months ago and was considered a 'Quad-S'. One happy note about the post office though, they have installed a self-checkout system. I did not like these when they first appeared in retail and grocery stores a few years ago, mainly because they were problematic and took away jobs that could go to some snot-nosed punks. But the one at the post office was pretty smooth and maybe it will help me avoid dealing with those jerk-offs.

I decided to do a little shopping for the rest of the afternoon. I bought some boardshorts and a few small things, had my eye on a DVD-burner and the William Hung CD. Then in Best Buy I saw an endcap with some new Gameboy games, a couple of the early NES titles re-released like Excitebike, Super Mario Bros. I bought the original Legend of Zelda. Then I realized by reading the back cover that I was playing this game back in 87. Then I realized that was the last time these Cecadas were here, 17 years ago in 87.

And it posed an all important question: Zelda or Cecada?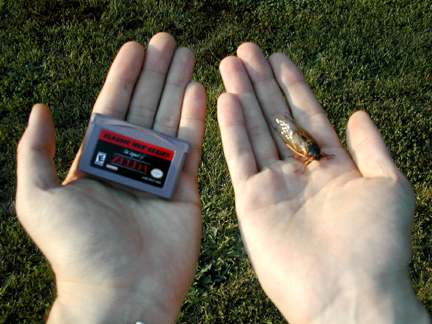 Some how 17 years later, at least for me, Zelda and the Cecadas have not lost their appeal. I've been playing alot of the old school games as emulators lately. And maybe it's how I've been livin' wicked 87 lately, like when Aaron was living wicked 85. I don't know man, but shooting swords at monsters and playing with noisy bugs still has a fun aura about it. And I wonder why the ladies are not beating down my door to get their hands on the Z-man.
But you might also enjoy both Zelda and the Cecadas, or one over the other. So that's why I ask you this question: Zelda or Cecada?

-Zosie

You are entitled to your opinion (no matter how wrong it is)
---

Steely Dan - Reeling In The Years


You are entitled to your opinion (no matter how wrong it is)
---
Home | eJournal | Archive